The perfect example of great accessibility, usability, and seamless technical integration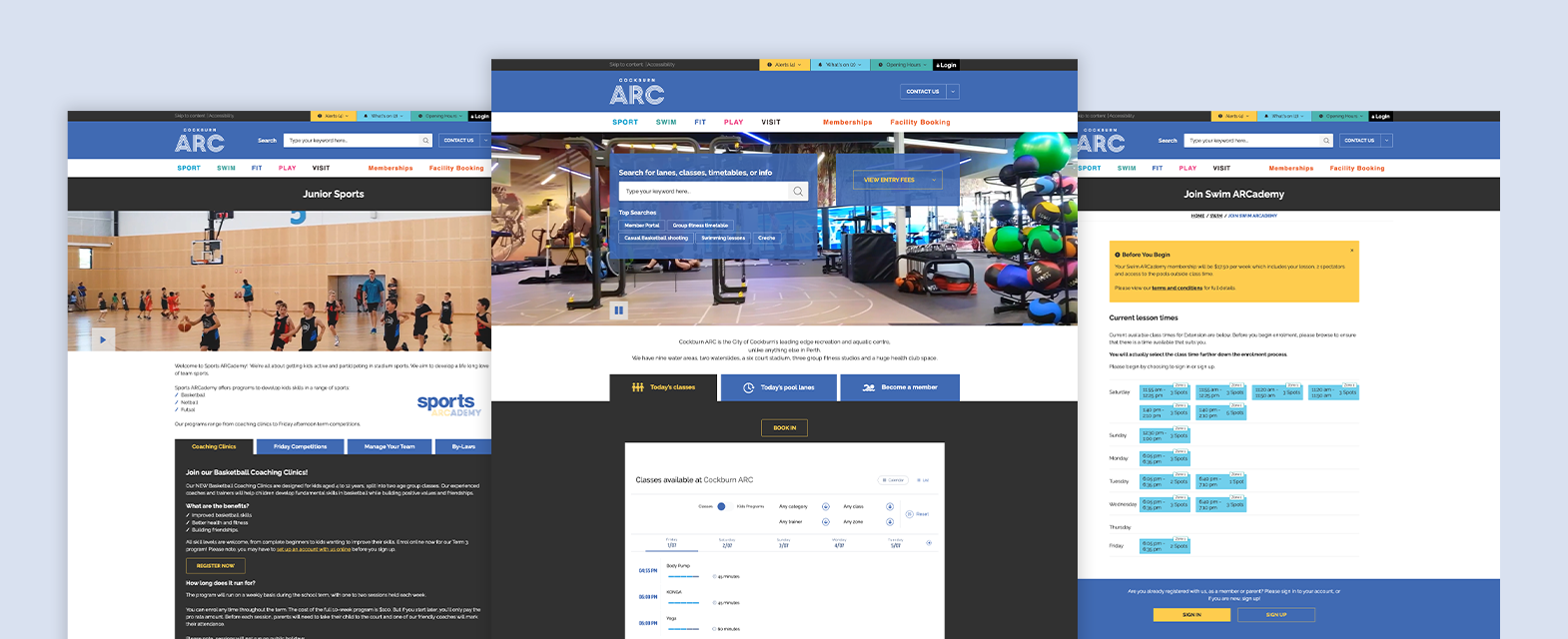 About Cockburn ARC

Cockburn ARC is the City of Cockburn's leading-edge recreation and aquatic centre, unlike anything else in Perth. They needed a website that presented the centre like no other and, being Government-owned, the site had to meet WCAG 2.1 AA Accessibility.
The challenge
Building a site like Cockburn ARC was unchartered territory. The level of integration we achieved had never been done before, but we eagerly accepted the challenge. Swim timetables and lane/class availability were all managed in an external system which required a complex integration solution to pull in the data for a seamless booking system whilst capturing and storing quality customer data.
Government sites are held to high accessibility standards, meaning they should be usable by as many people as possible, regardless of sight limitations, hearing difficulties, or simply a slow internet connection. We automatically assume that site users are able-bodied, with great eyesight and hearing. So you would expect that things like using a mouse would be easy, right? Not always. When designing sites with accessibility in mind, we often have to reduce the style and features of a site. This results in accessible sites being generally (much) less pleasing than sites for a mainstream audience because interactive elements are highly simplified.
The solution
For the developers at ALYKA, this project was a labour of love. From the outset, we labelled the task as 'Accessibility is in the DNA', which ensured that accessibility was thought of in all elements.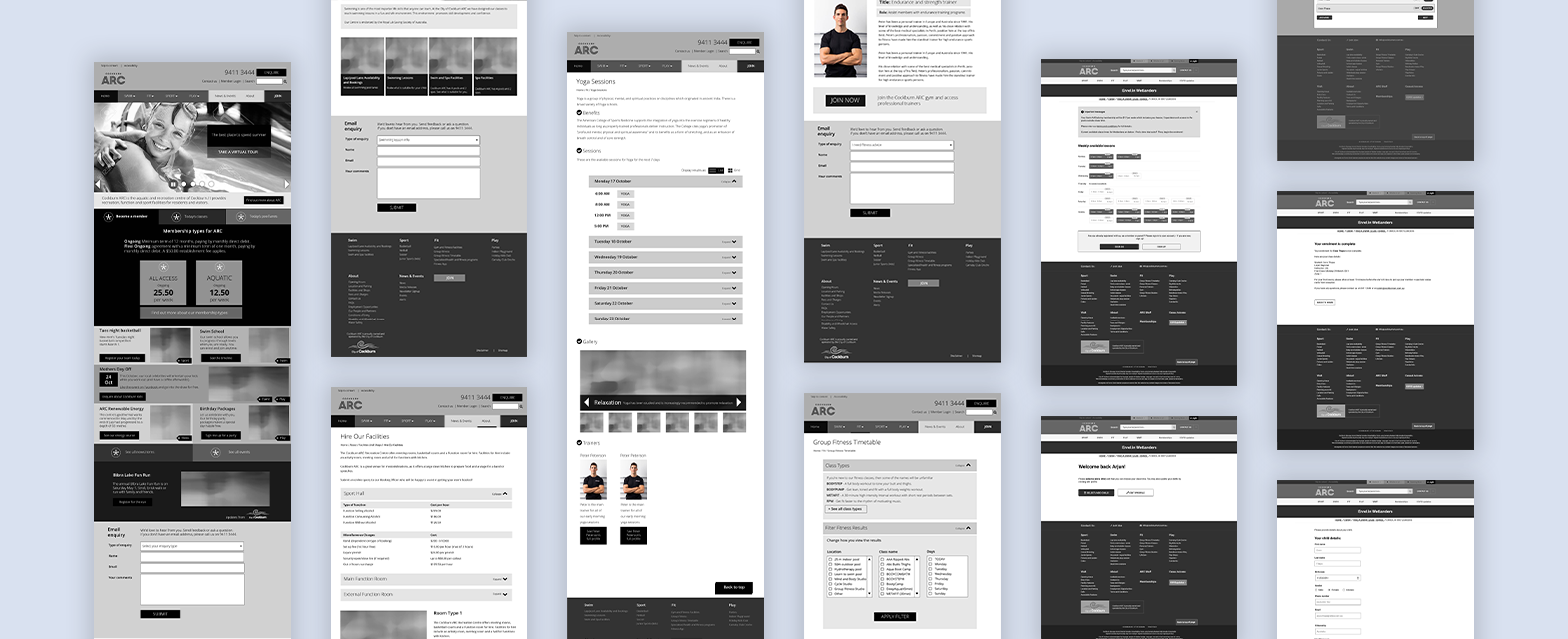 Design
Our front-end developers (the gurus of HTML/CSS and JS) worked with the technical developers (the gurus C# coding language for .net applications and databases) to exchange the correct data structure. From the very beginning of the project, they liaised with our designers, who reviewed their work regularly, to ensure it was AA accessible. It was a great example of how our team work together to deliver the best possible results for our clients.
Having the eyes of both designers and developers on the website ensures it looks, and functions, optimally. The result was beautifully aesthetic pages that conformed to the strict design requirements. It was the perfect custom solution between the editor-controlled content management system and external third-party platforms and databases to achieve seamless integration for the user.
User Experience
The UX stage considered all elements and how they are perceived and interacted with. We asked ourselves:
Can a blind user interact with the navigation?
Can a deaf user interact with videos?
Will the sliders make sense to a user with poor vision who can only use a keyboard?
We painstakingly prototyped each element and considered all users. Then, we expanded text elements and reduced the distance between labels and data, all while keeping inline with the AA guidelines, without sacrificing usability and design.
Digital transformation of the swim school
The Cockburn ARC website is a growth-driven design project, meaning we continually work to improve the site to enhance its functionality. One project we're proud of is the swim school enrollment process. Previously, it was a manual process for visitors to find a swim class, book over the phone, and then make payment either over the phone or in-person during their visit.
To better align with their state-of-the-art website, we completely transformed the process to allow parents to complete the enrollment online. Parents can now find the perfect class for their child, sign up and create an account, find a class time that works for them, and enrol their child into the class whilst having the option to pay using their credit card or direct debit. This data is then pushed and pulled from various systems, including Perfect Gym, which is Cockburn ARC's gym memberships management software. A customer profile is automatically created and saved within Perfect Gym, along with all the booking details collected from the website form.
The results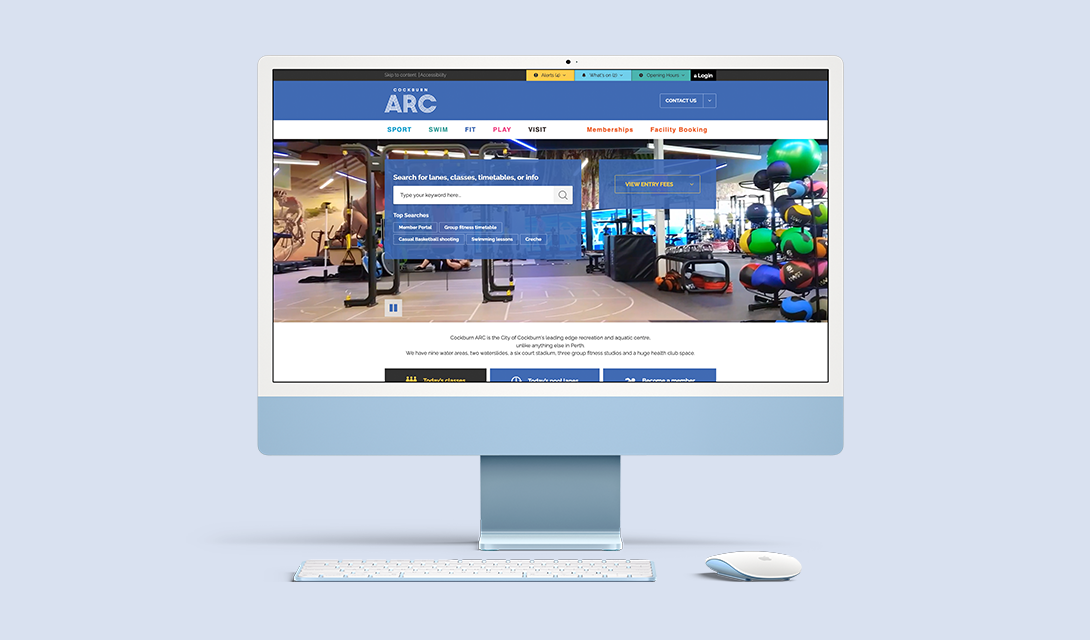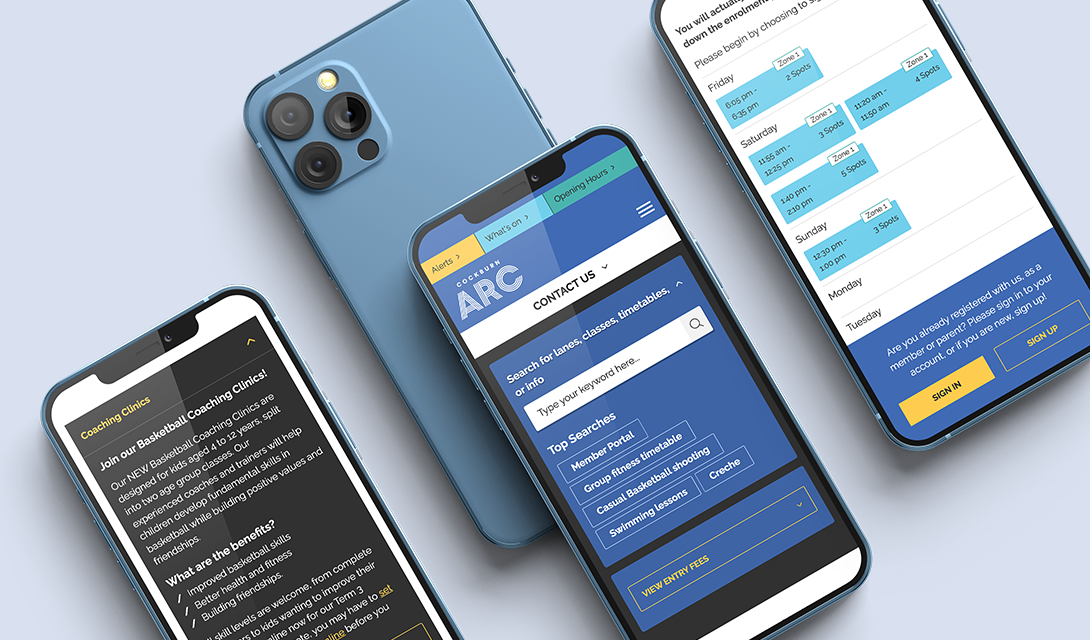 The Cockburn ARC site is the perfect example of great accessibility, usability, and seamless technical integration.
Have a look at the site for yourself. You can use your keyboard to navigate everywhere (we mean everywhere), on menus, tabs, and accordions. The colours are great, even if you're colour blind or have poor vision, and if you have a full loss of vision, everything still makes perfect sense. Try and crank up the zoom, and you will see that the site is still usable and accessible.
The contact details even have directions for getting to Cockburn ARC by bus, train or car. You don't want to get there to find no available spots left in your fitness class, so we included a site-wide online booking system so well designed that you don't realise you're being taken to an external site.
Independent audit
After the initial launch, the Cockburn ARC site was independently audited for AA compliance by the Digital Accessibility Centre (DAC).
The DAC has a panel of users who each test the site for specific issues. Some will test the site to ensure that each label makes sense, even when the context is unknown. They also test for keyboard compliance, visual contrast, text size, interaction, dyslexia, and a suite of other issues to ensure that all users can comfortably use the site. It got the tick with very little rework required!
Internally, at ALYKA, the best result is that you wouldn't know the site is accessible at first glace, until you dig a little deeper and see the thought and care that has gone into creating an AA compliant website that doesn't compromise on design or functionality.
View the site