Revitalising an aged care website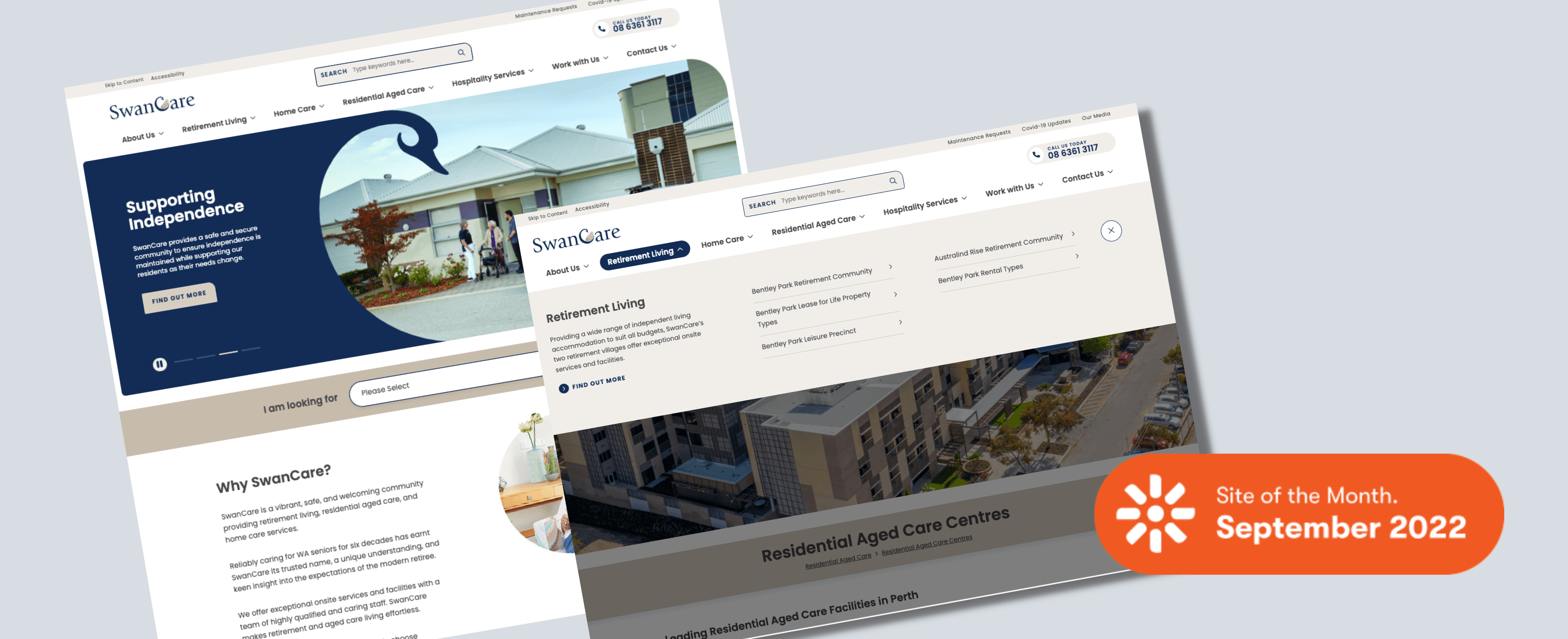 About SwanCare

SwanCare has been reliably caring for West Australian seniors since 1961. Their vision is to enrich the lives of everyone in their community by providing a caring community where every person feels safe and has the freedom and choice to live the life they desire.
The challenge
SwanCare's previous site needed a refresh to bring the dated branding back in line with the corporate vision. The content management system (CMS) was no longer going to be supported, leading to increased downtime and a negative user experience. This, along with accessibility, needed to be addressed in order for the site to play its part in achieving business goals.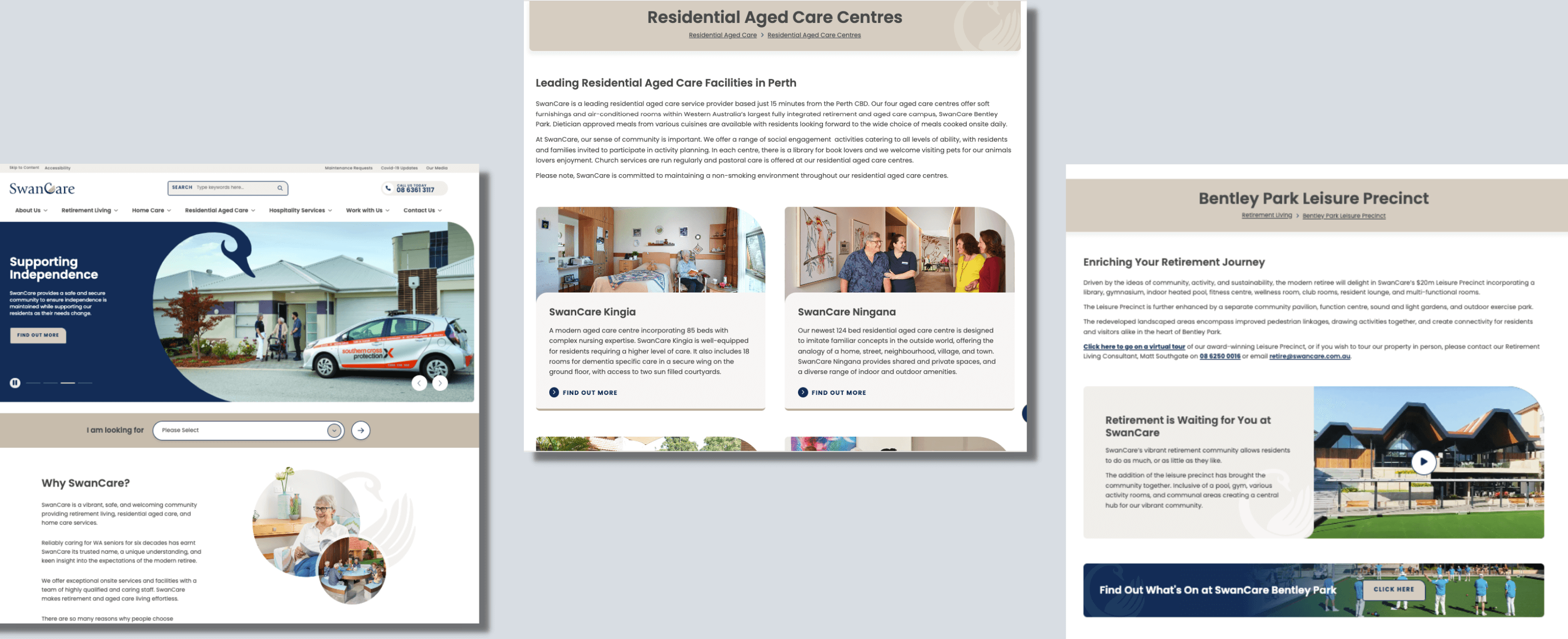 The solution
Discovery workshop
Our website projects always start with a discovery workshop with key stakeholders so our team can learn about the goals of the business and how the website can play a part in achieving them.

SwanCare's business model is multifaceted, so it was important that the website made it easy for prospective clients to understand the business offerings. SwanCare's services include an independent retirement living community, home care and four residential aged care centres, all within a 15-hectare campus in Bentley as well as an independent retirement living village in Australind. Each of these services needed to be clearly defined on the website. The previous site architecture was confusing and based on the data viewed in our analysis, we could see that users were struggling with navigation.
Graphic design
The previous SwanCare site used colours that did not meet accessibility standards. So, our graphic designers utilised the updated corporate brand colours to create a new set of web guidelines. The navy and coffee colours, along with softening of edges, not only modernised the brand, but it also made it more approachable and welcoming.
Custom CMS build
Our team built the new website on the Kentico 13 content management system (CMS). Kentico gives us the ability to create custom designs, integrate with third-party software, and build a secure and reliable site that our client can manage themselves. Being on the latest version of Kentico means that the site loads at lightning speed, providing an exceptional user experience, with almost 0% downtime.

The site features content widgets and templates to allow SwanCare to publish content themselves, as well as custom tables, workflows for approval processes, and custom roles and permissions to increase site security.
Salesforce integration
SwanCare use Salesforce customer relationship management (CRM) software to manage their pipeline and job requests. Kentico's functionality allowed us to integrate Salesforce into the website form module, allowing form submissions to be automatically populated into the CRM. This eliminates the need for any unnecessary duplication or double handing of data. As a result of this integration, SwanCare was able to maintain a full visual overview of their website leads and how they progress through to becoming a client. They are able to build custom forms and bring this data straight into their CRM, achieving efficient internal sales processes.
The results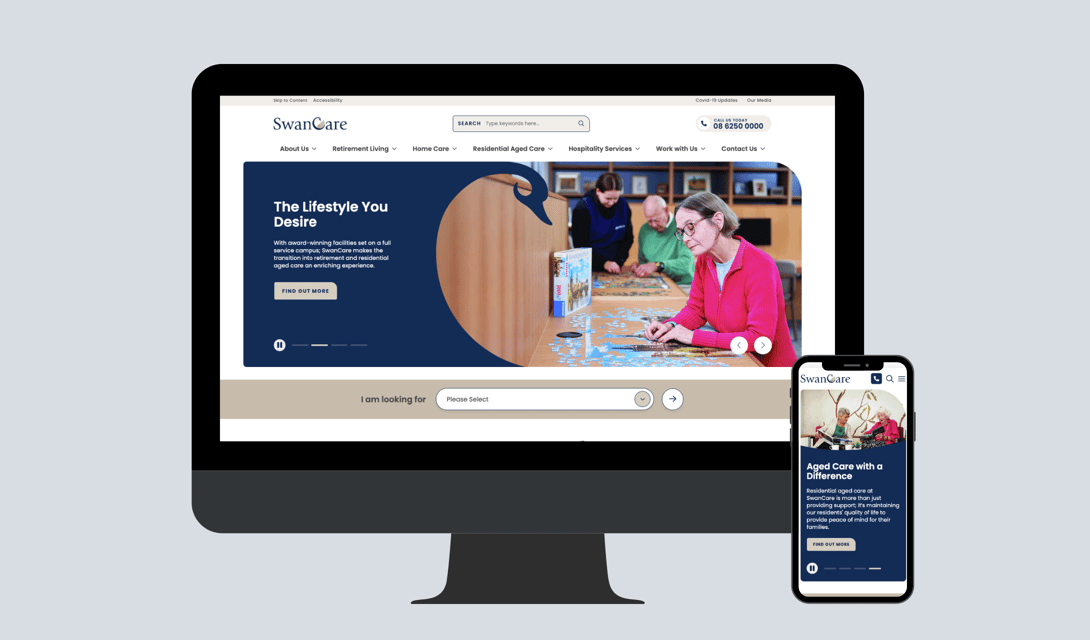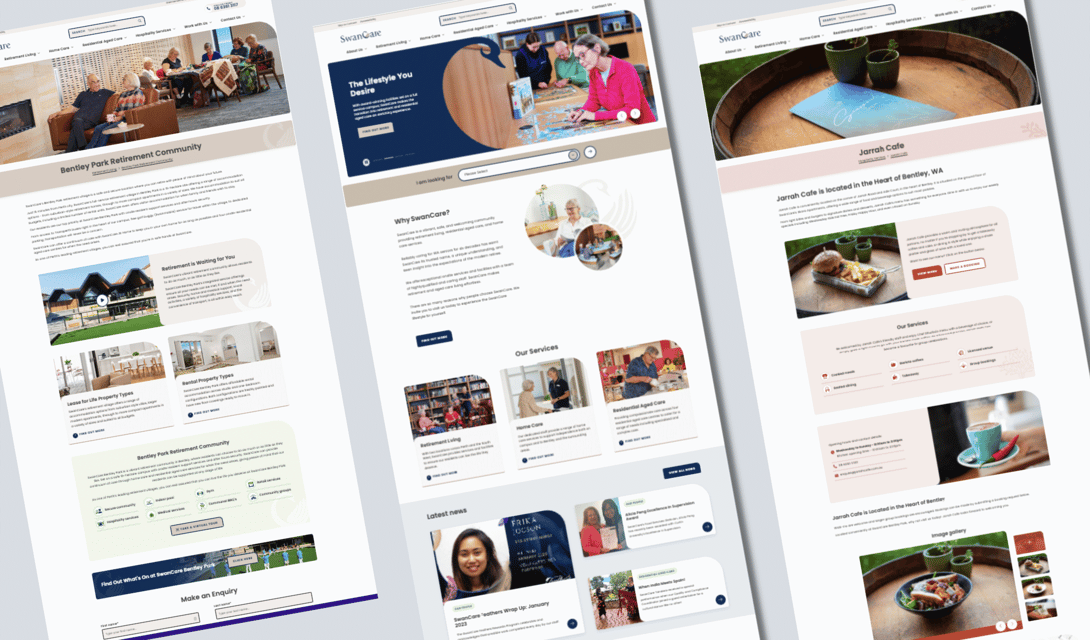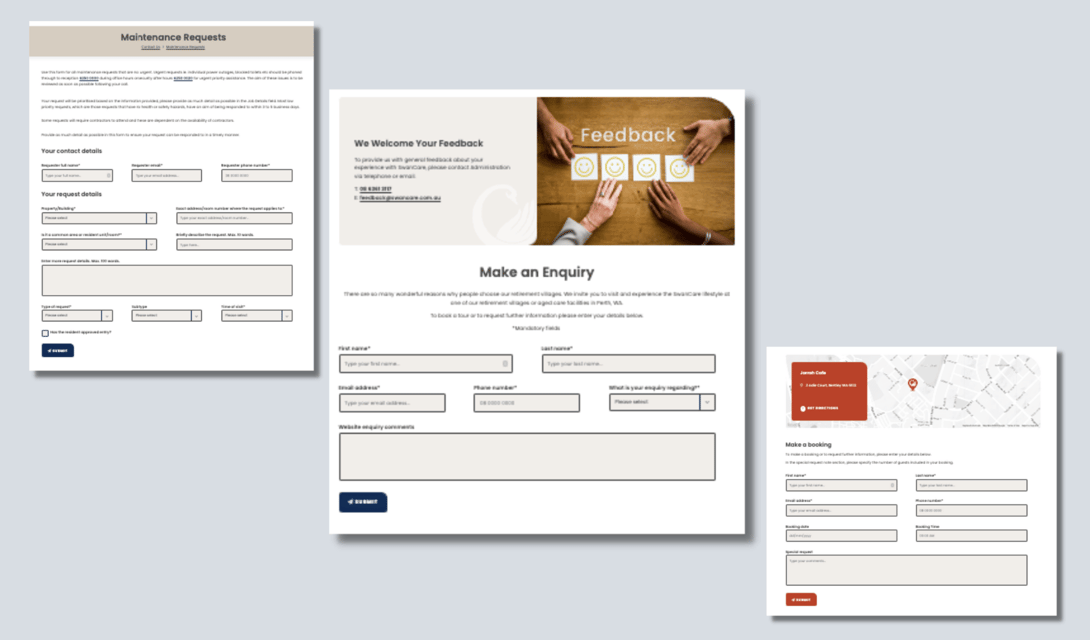 The main objectives of the new website were to create a better user experience, meet Web Content Accessibility Guidelines 2.1 and to generate more traffic and leads. Goals of which have been achieved.
Website visitors have an exceptional experience, through easy navigation and better-refined content. Downtime is almost non-existent, as the new site achieves 99.9% uptime. The site also meets AA accessibility standards which was extremely important in this industry. The improved navigation means it is easy for clients to engage directly with SwanCare as it provides multiple touchpoints for each specific area; which has resulted in an increase in leads.
The site was launched in August 2022. Some notable statistics (from 01/09/2022 - 07/02/2023 vs 01/09/2022 - 07/02/2022) include:
New users: +6.71%
Average session duration: +187.55% (49s on the previous site vs 2 min 22s on the new site)
New sessions: +2.53%
99.9% uptime.

The site was awarded Kentico Site of the Month in September 2022, which was a fantastic way to acknowledge the work our team put into this project.
View the site