A digital marketing campaign that improved health outcomes for Australians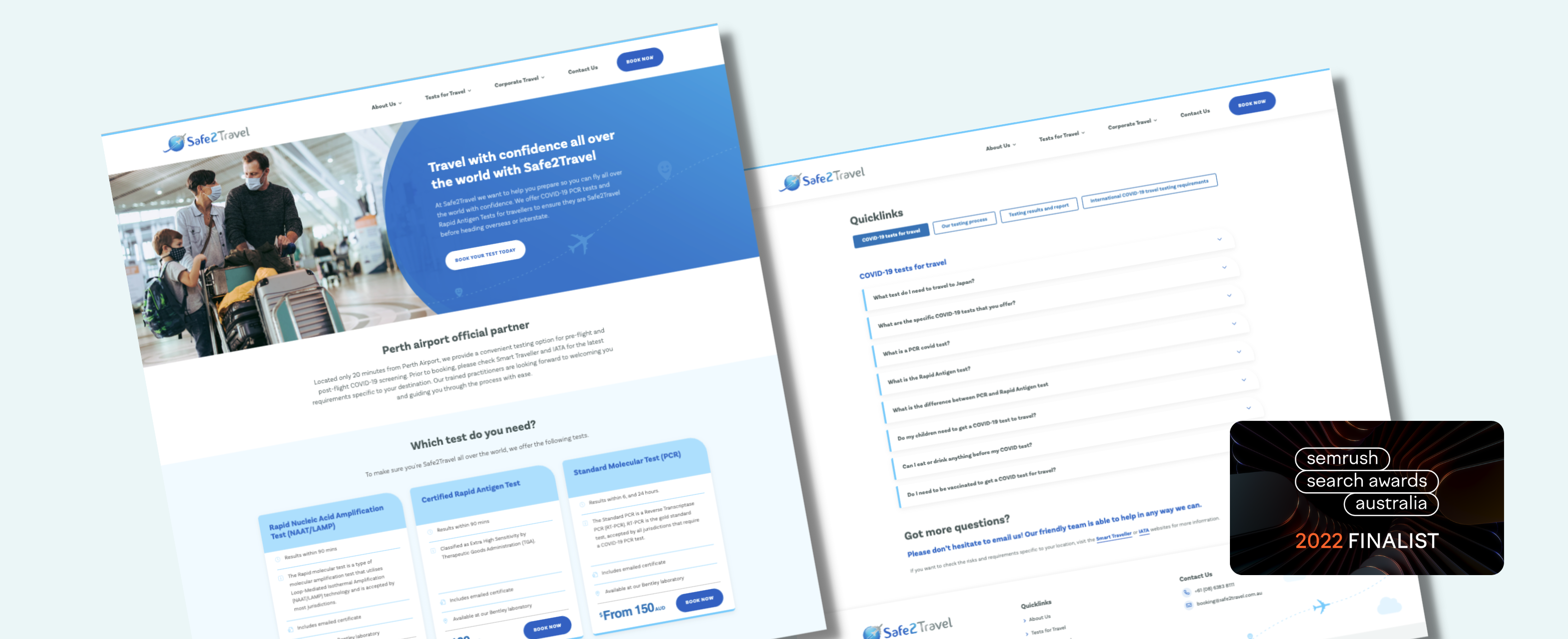 About Safe2Travel

The Covid-19 pandemic has been a stressful time for everyone across the globe, heavily impacting businesses worldwide. However, for one of our clients, it presented a new opportunity to help keep our community safe.
The client, a biotechnology company based in Perth, created a sub-company in early 2022 called Safe2Travel, and released a new service to provide travellers with a quick and convenient way to test for Covid-19 before flying. The primary service is Virtual Supervised RAT Testing for Covid-19, which takes place over Zoom for a testing solution that is accessible to everyone.


The challenge
Safe2Travel had an existing website, but there was a lot of opportunity to make improvements to increase traffic and bookings for testing. With the Covid-19 situation fast-changing, we needed to have a flexible strategy that would allow our client to get in front of their audience at the right time, whilst demand for the product was high. Being a heavily-regulated industry, we had the added challenge of keeping up-to-date with changing requirements, and adjusting our strategy as and when required to stay compliant.
The solution
Digital Strategy
As with all of our projects, we started with a thorough digital strategy rather than diving straight in. We conducted a business analysis, looking at the background of the company in order to understand the frictions and opportunities, which helped shape some business goals. We had a look into customer profiles to define who the audience was, completed a competitor analysis, and from there, we recommended the marketing channels that should be included in the campaign.


Branding
Being a new company, Safe2Travel needed direction on its branding. A strong brand is needed to grow recognition and loyalty and helps to build trust and credibility. All of which are crucial within the healthcare industry.

Our content marketer developed a positioning statement and provided direction for brand design and visual assets. From there, we defined Safe2Travel's ideal customer by creating three buyer personas, which included both B2B and B2C customers.


Website Development
The online booking system needed to be a flawless process, with no roadblocks to booking the appointment. Our team made recommendations to improve the information architecture (IA) of the existing website to better structure the site to optimise conversions.

Being a new website, work needed to be done to drive traffic to the site. After some keyword research, our team saw a huge opportunity to run paid campaigns for queries regarding travel restrictions and testing. We then added FAQ content to key pages to maximise SEO and provide up-to-date information for users.


Paid search
As the Covid-19 situation was evolving, digital platforms, including Google and Facebook, were updating their policies in-line with Government guidelines. This consistent change meant that performance from ads could not be guaranteed, and there were specific guidelines that we had to follow.

We set up Google Ads targeting keywords such as "covid test perth" and optimised them daily, whilst updating messaging as and when required by updated regulations.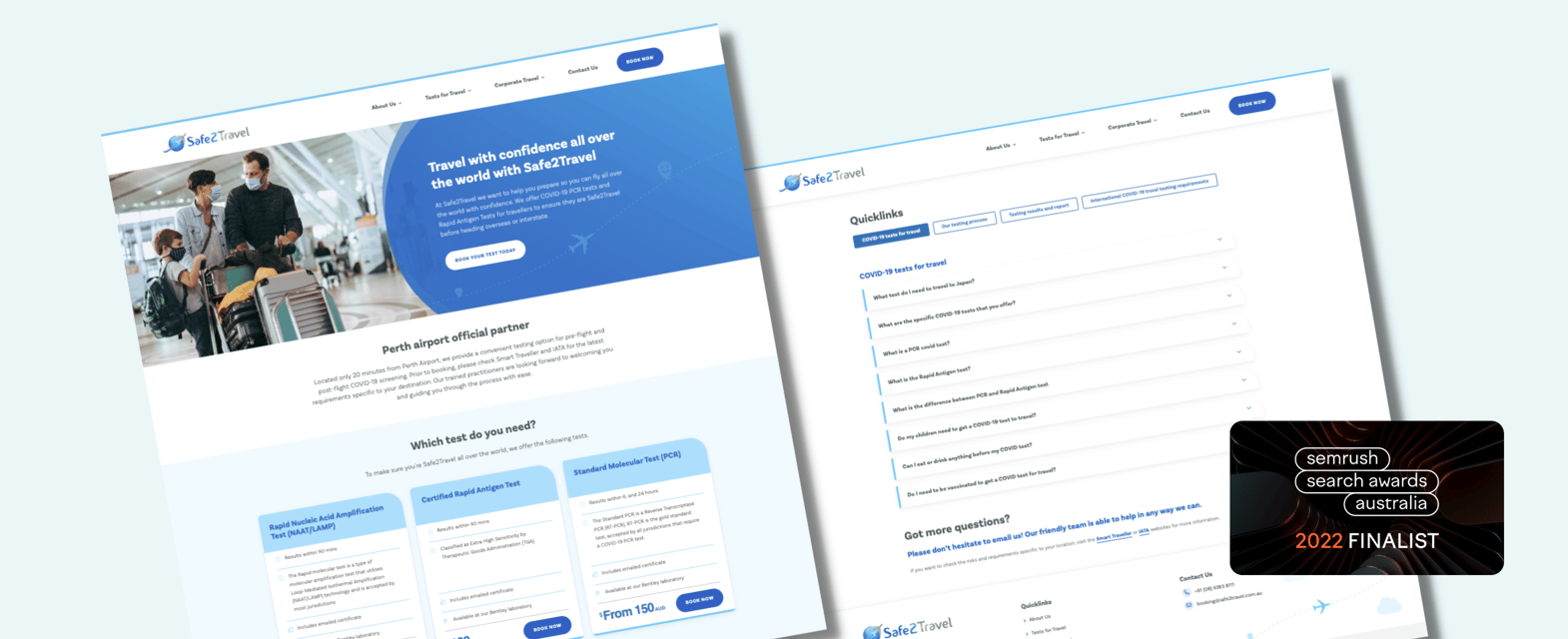 The results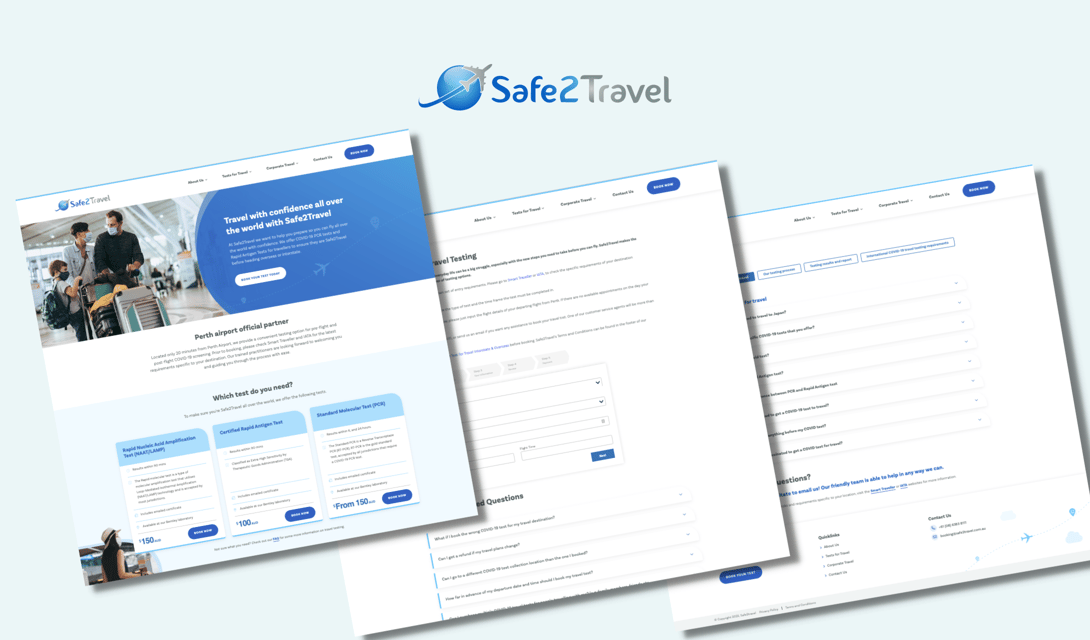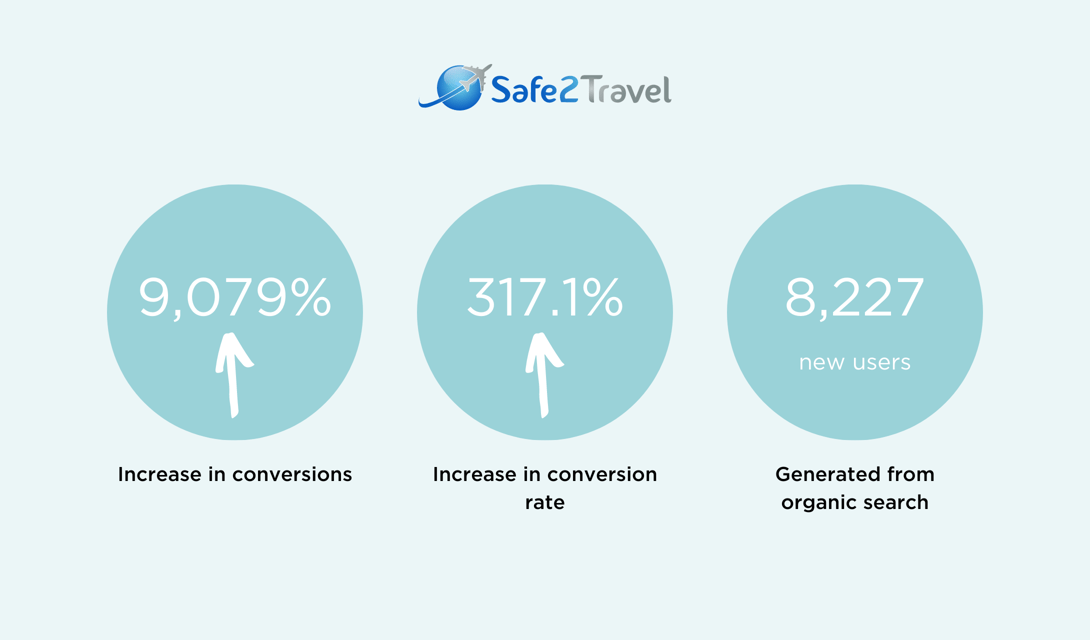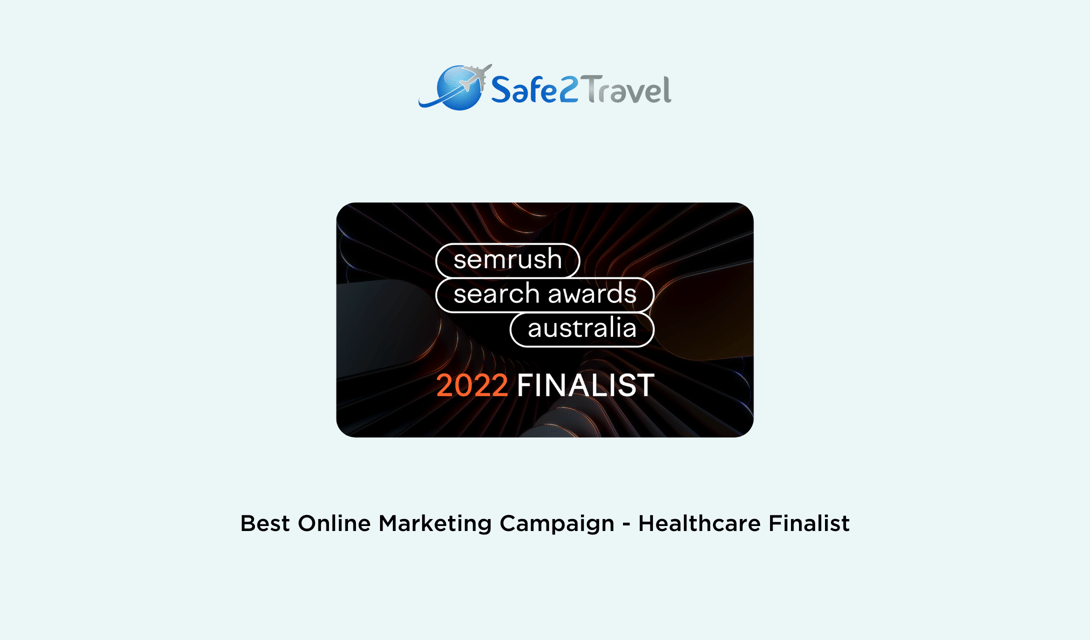 The Safe2Travel campaign has been one of our most successful campaigns to date. We were able to define a strategy for a heavily regulated and fast-moving market, and execute it in a short time, with some fantastic results for both the client and the end user.

The campaign resulted in the Virtual Supervised RAT Testing being one of the biggest revenue-generating services offered by Safe2Travel.

Some notable results from 1st March 2022 - 31st May 2022:
Conversions increased to 11,382, an increase of 9,079%,
Conversion rate increased to 9.59%, an increase of 317.1%,
Bookings peaked during the month of May at a total of 5,701,
8,227 new users from organic search,
17,884 sessions from organic traffic, an increase of 1,969.9%.
As the cherry on the top, our work with Safe2Travel was shortlisted as a finalist in the
2022 SemRush Awards
for the Best Online Campaign - Healthcare category.