Making alcohol-related resources more accessible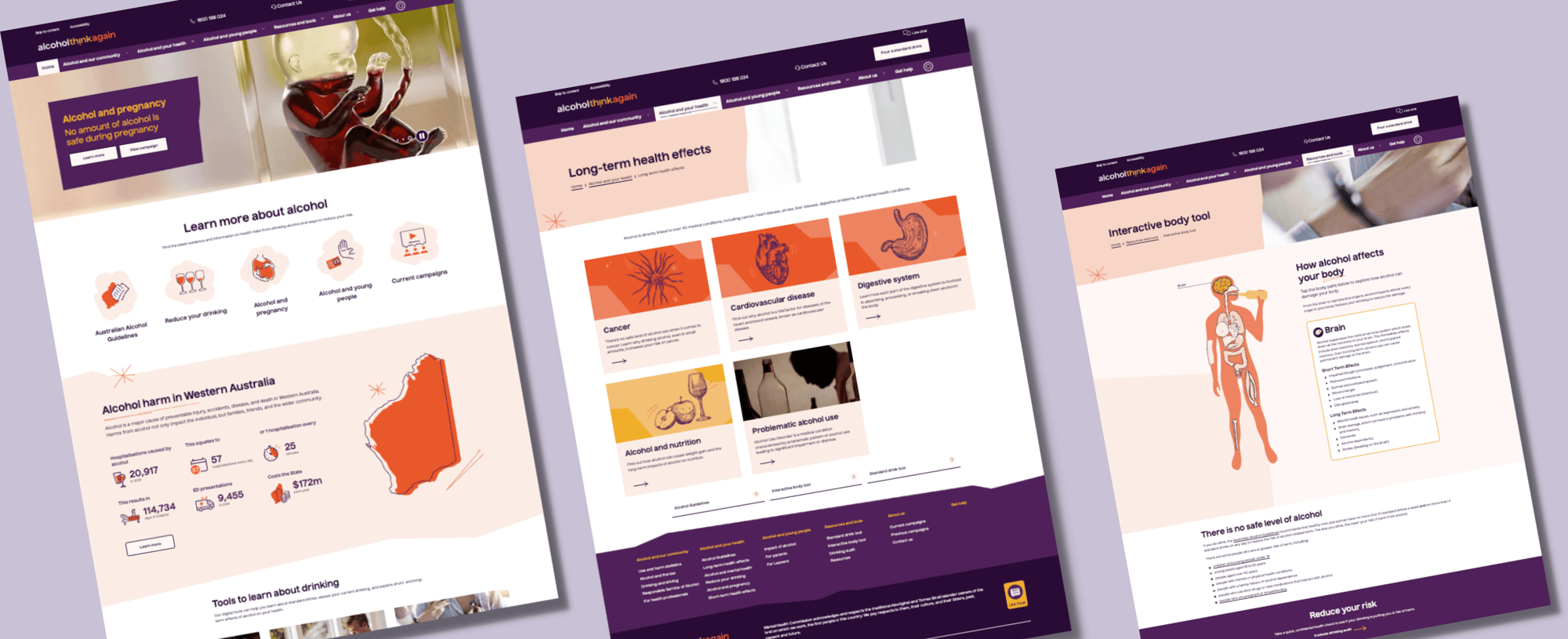 About Alcohol. Think Again
The Alcohol. Think Again education campaign is a WA Government initiative delivered by the Mental Health Commission that provides resources and information about the effects of alcohol. Their goal is to reduce the level of alcohol-related harm and ill health.
The challenge
Alcohol. Think Again recently launched their new brand to create a fresh, more appealing look. It was time to bring their online presence in line with this new branding.

The requirements of their website have also changed over the years. Alcohol. Think Again was looking for a content management system (CMS) that was powerful in its capabilities but would allow its internal team to manage in the long-run. Being a Government initiative, meeting accessibility standards was a strong requirement.

Additionally, Alcohol. Think Again required a comprehensive search engine optimisation (SEO) strategy to improve their online presence, which had seen a drop in recent years.
The solution
Discovery workshop
All of our website projects start with a discovery workshop. This half-day workshop with our team and client stakeholders ensures we gain a complete understanding of our client, their organisation, and the project goals.
From the discovery workshop, we concluded the following priorities for the website:
To provide evidence-based information to the community that is easily accessible
To provide targeted public education campaigns that aim to reduce the level of alcohol-related harm and ill-health in Western Australia.


Website development
Built on Kentico 13 means the new site runs at lightning speed, with unwavering levels of security.
User Experience
Intuitive User Experience was critical for the new website, given that one of the site's goals was to ensure the information was easily accessible. Across the site, you'll see easy-to-navigate pages that can be identified with icons and page headings.
Custom modules
Being built on the Kentico 13 CMS allowed our team to get creative with custom modules. One of our favourite features on the site is the interactive body tool, which was scoped and built by our developers. The tool shows the various parts of the body that are affected by alcohol consumption.

We were able to migrate other tools across from the previous website with no issues, including the standard drink tool and the drinking audit.
Resources section
The resources section features downloadable PDFs in multiple languages, helping to achieve the goal of making the information accessible to a wide audience.
Live Chat
The website has a Live Chat feature to facilitate confidential conversations and connect Western Australians with access to support. The tool connects website users with a free online qualified counselling service.
Other features:
Homepage slider with video and image capabilities - this allows Alcohol. Think Again to use campaign videos on their site
WCAG 2.1 AA accessible.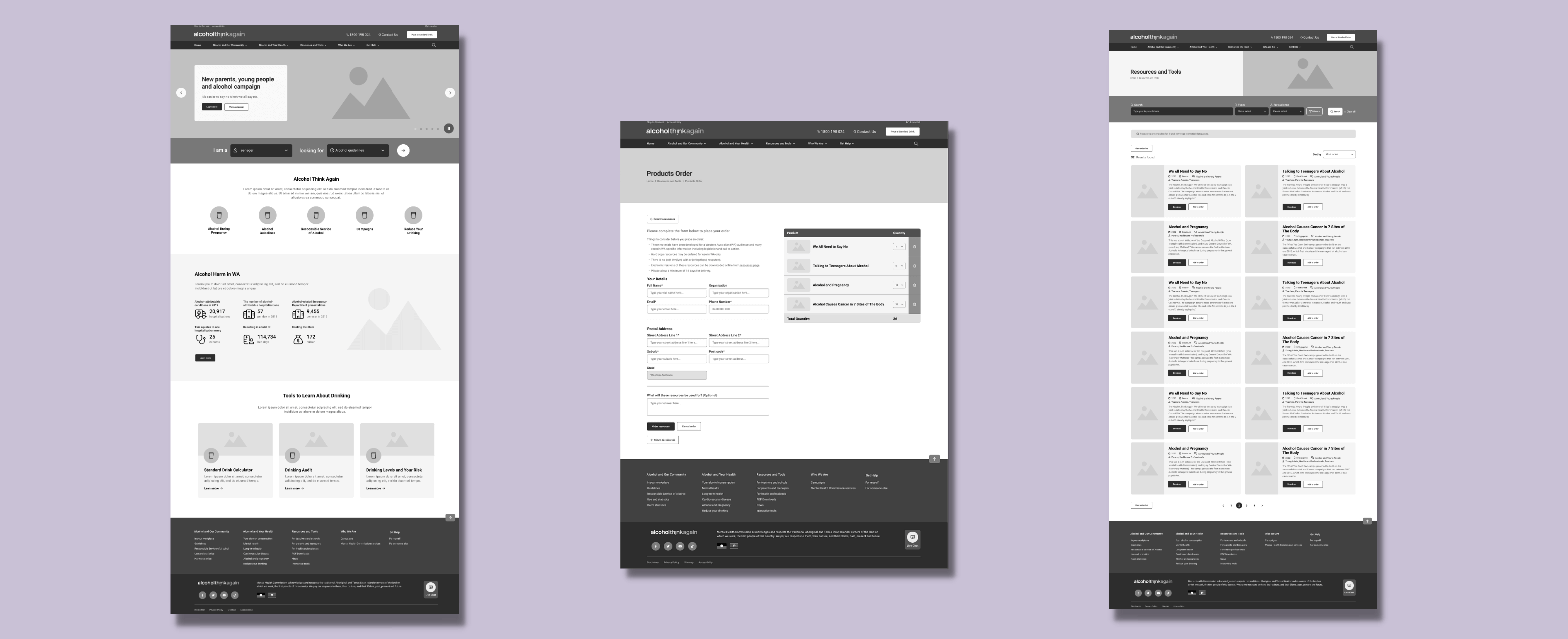 Search engine optimisation (SEO) strategy
A comprehensive SEO strategy was presented and executed. This strategy aimed to achieve increased organic traffic, optimised internal linking structure, and improved high authority backlinks.

The strategy was split into three buckets: technical SEO, keyword research, and on-page and off-page implementation.
Content Workshop
To empower the Alchohol. Think Again team to create content for their new website that meets Accessibility standards, delivers a positive User Experience and is optimised for search, we ran an educational workshop with the team. During the session, we covered the following topics:
Planning and allocating resources for new website content
Doing keyword research and SEO best practices
Generating content ideas
Creating accessible content that complies with WCAG 2.1 requirements
Writing, editing and reviewing
Conversion techniques
Structuring content and page layouts.
The results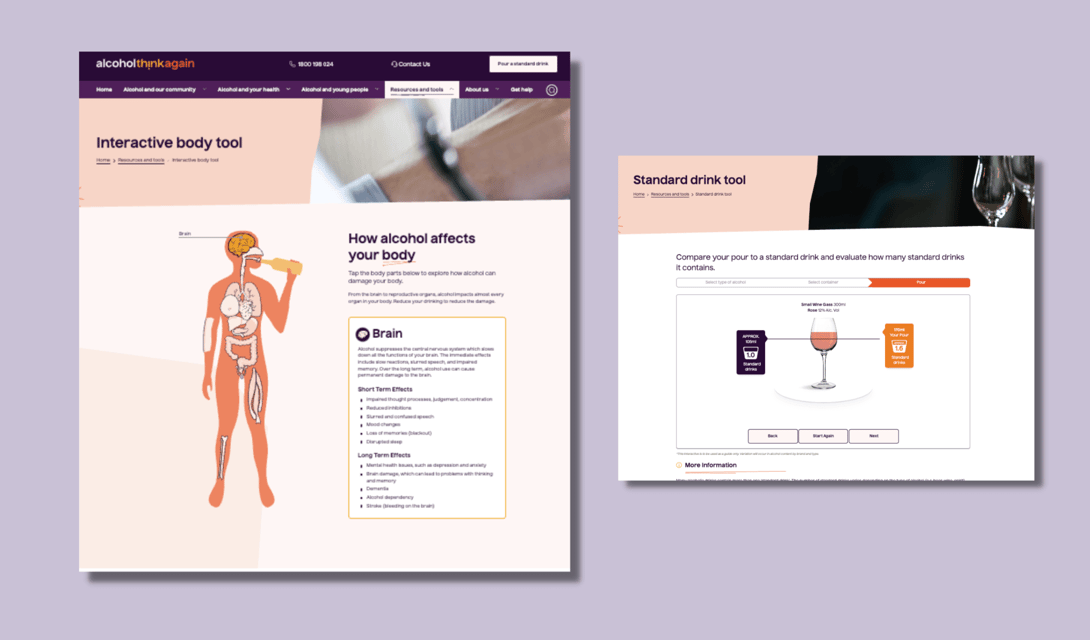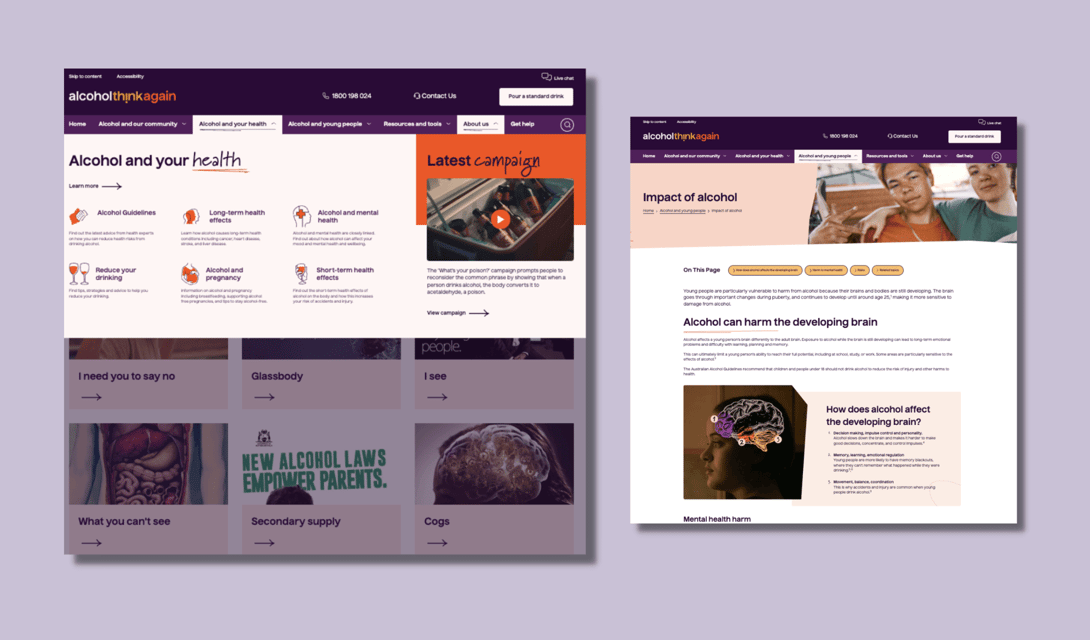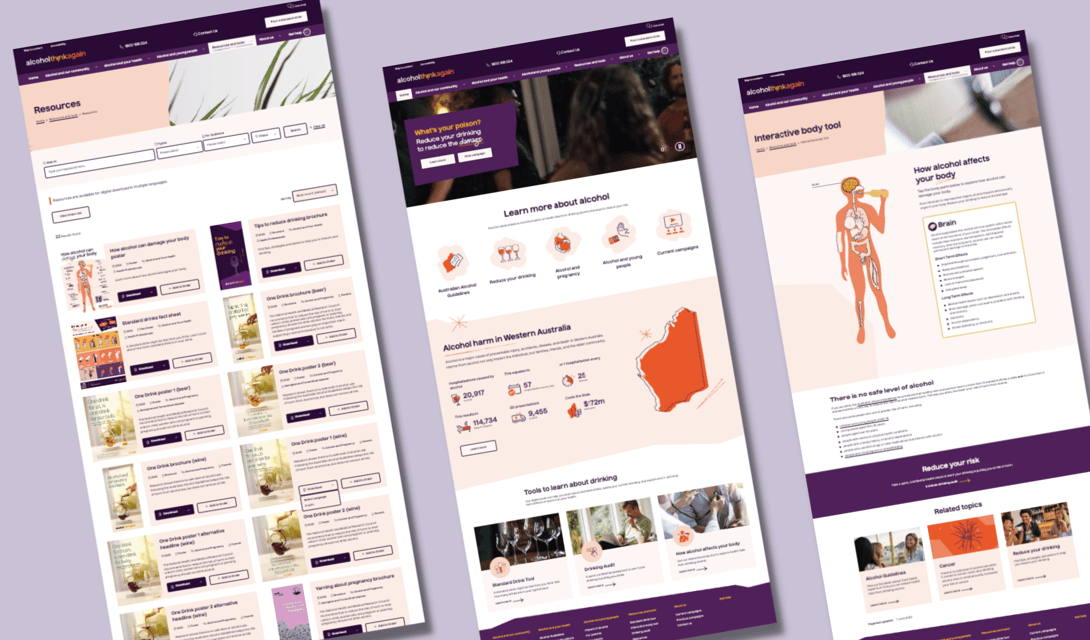 The new Alcohol Think Again website brings the organisation's online presence in line with its new branding. Built on the Kentico 13 content management system (CMS), the site exceeds WCAG 2.1 AA accessibility standards, making the content more usable and understandable to people with differing abilities.
After comprehensive training from our team, our client can manage the website internally. This empowers them to keep information and resources accurate and up-to-date, meaning they don't need to rely on us to update content.
Here are some key analytics stats comparing the period of 31st May 2022 - 2nd October 2022 and 1st February 2023 - 30th May 2023:
Engagement rate increased 8.45%
Conversion rate increased 29.91%
Average engagement time per session increased 7.48%
Engaged sessions per user increased 12.99%.
View the Alcohol. Think Again site