User Experience
The next step in the data-driven playbook is to understand what users want from your website or app and to design around their needs using a user-first approach.
User expectations in today's world
A lot of modern sites have been developed with a user-first design approach. Sites and apps like Uber, Airbnb and Facebook are all easy to navigate due to the in-built usability. Users today assume that this is how any site should work.
Users today want 3 things:
Predictability
The more a region responds as expected, the more usable the region will be.
Easy tasks
Scrolling, clicking without making mistakes.
Reassurance
The content and design is relevant to me.
User research
Without user research, you are essentially basing your user experience and designs on assumptions. User research helps uncover important and useful insights about the user and their needs.
Until you know your user and their language usage, motivations, challenges, expectations and responses you won't be able to deliver a great user experience.
Learn more
Designing the information architecture (IA)
In this phase, you want to design the IA of the website or app based on user research. IA is designing the structure of the content, configuring the layering, linking and labelling the system. It defines:
The layering / organisation of screens, pages and elements
The titles of screens, pages and elements
The labelling of call to actions
How pages will be linked
Learn more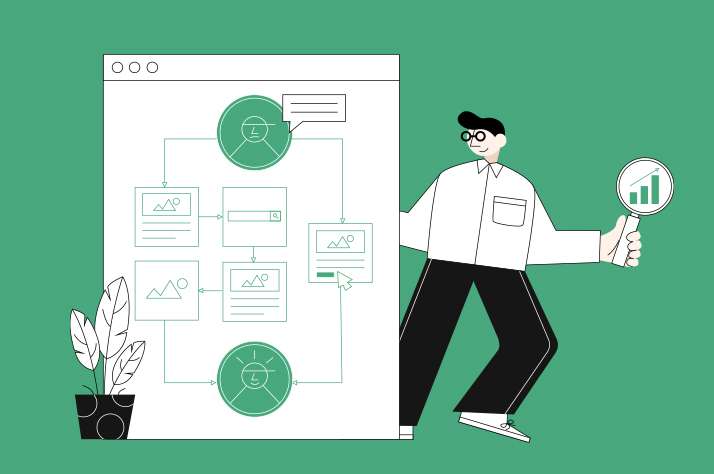 Designing the user experience (UX)
Simultaneous to the IA, you want to design the UX of the website or app. UX encompasses the experience, usability, and emotion a user feels when using a site or product.
By analysing the behaviour of users, UX design identifies their motives and creates optimum digital experiences for them. By doing UX we create the best user journey for all users.
Neglecting UX can result in a site that people will not return to. Implementing effective UX design can have the following long term effects on your website:
Increased user engagement
Improved user retention
Improved conversion rates
Increased sales
Reduced maintenance costs
Increased overall customer satisfaction
View the next step of our Playbook