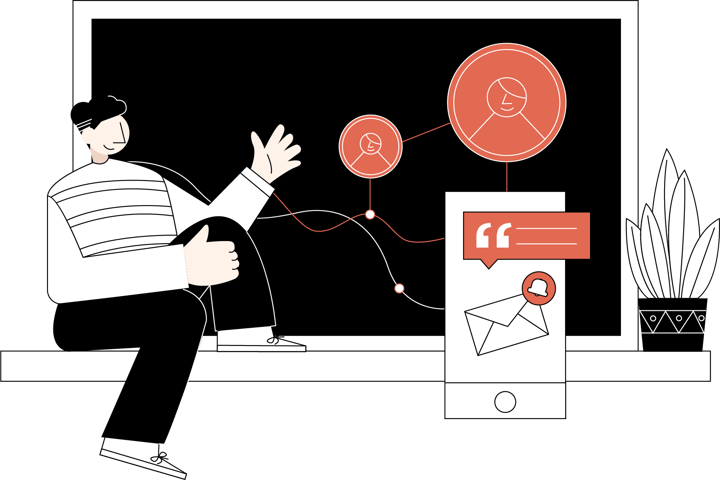 Your customers are your most valuable asset. As your business grows, so does your customer database and all of the information that comes with it. A CRM is crucial for making sure that all of their details live in one central place. Any business that focuses on relationships with its customers should use a CRM to make smart marketing decisions.
First things first, what is a CRM?
A CRM (Customer Relationship Manager) is a system that manages your company's relationships and interactions with customers at all stages of their journey. When used to its fullest potential, a CRM can be beneficial to a variety of your team members. From admin to marketing, management and customer service, it allows everyone to access information about every customer interaction. This ensures that everyone is on the same page, and each team member can pick up where another has left off.
The benefits of using a CRM
Remove friction between your sales and marketing team
Using a CRM can increase effective communication throughout your business which encourages transparency. This helps align sales and marketing goals and can reduce or even remove friction between your sales and marketing team.
Clear visibility over the entire customer journey
A CRM will maintain a centralised database across the whole organisation. This allows you to track all parts of your customer's journey, from lead management to lead nurturing, sales, product or service delivery and retention.
Free up time and resources through marketing automation
Using a good CRM system makes it simple to automate tasks such as logging emails or booking meetings. This information is collected and sorted automatically through the system, making the process as efficient as possible.
Make smarter business decisions driven by data
Marketers today are tracking more data than ever. However, if this data isn't being sorted, cleaned, analysed and made actionable, it's not valuable for your business. That's where a CRM comes in to help you dig deeper with data-driven reporting. You can also create visual dashboards to quickly view and understand the most important metrics to your business success.
Improve customer experience and increase retention
Because a CRM gives you reminders on when and how to follow up with your customers, you can give them better service. A CRM will also help you understand what content resonates best to provide them with better value.
Signs you need a CRM (or to upgrade your old one!)
It's becoming increasingly difficult to keep track of your customer data. You might even be using several complicated spreadsheets to visualise and manage this information.
You're jumping between too many different places to access your data. Important information is getting lost in the process, and you have no central system to manage anything.
You're not sure how to track your marketing efforts and spend. It's difficult to make decisions about your marketing efforts, and you're unsure what metrics are important.
Leads are falling through the cracks. You have no process in place to nurture leads that are qualified but not ready to buy.
Each person on your sales team has a different process. There's no consistency and no collaboration with the wider team.
A team member leaving results in a loss of data. The leads they were working on drop off, and there is no way to pick up things where they left off.
You're spending a lot of time on admin and manual tasks that can be automated. ​​ Simple tasks such as data entry, email followups and meeting bookings take up most of your time and resources.
How to choose a CRM that's right for your business
Understand your business needs
Before you dive into the wonderful world of CRMs, take a step back to gain a comprehensive understanding of why your business needs one. Consider factors like how it will be utilised, who will implement it and what features are the most important to you. Make sure to consult your customer-facing entire team.
Align your business goals
Once you understand how a CRM can fulfil business needs, you can start aligning your goals. Rather than having a siloed mentality, work out what you are hoping to achieve as a business and break those goals down into each team. It's also important to work out the budget you have to work with and what return on investment (ROI) you are hoping to achieve.
Research your options
Now that you have a good understanding of what you need from a CRM and your business goals, you can start looking at what system will fulfil this. With your list of necessary features in mind, you can research a few different options. Once you've narrowed your choices down, most CRM systems have a free trial option for your to test them out.
Some popular CRM systems include:
Implementation and Training
Most CRM systems will have training and onboarding programs to help you get started. While you may have the time and resources to set this up by yourself, in some cases, you may want to get a specialist to help you with the massive undertaking.
Our preferred CRM: HubSpot
At ALYKA, we're big fans of HubSpot, and as a diamond level solutions partner, it's safe to say they're big fans of us! We use HubSpot because of its fantastic lead-tracking capabilities, numerous technology integration options, and top-notch customer support. Being a diamond solutions partner means we're armed with the resources and knowledge to take you through your own HubSpot success story. Get in touch to hear how HubSpot can transform your businesss.