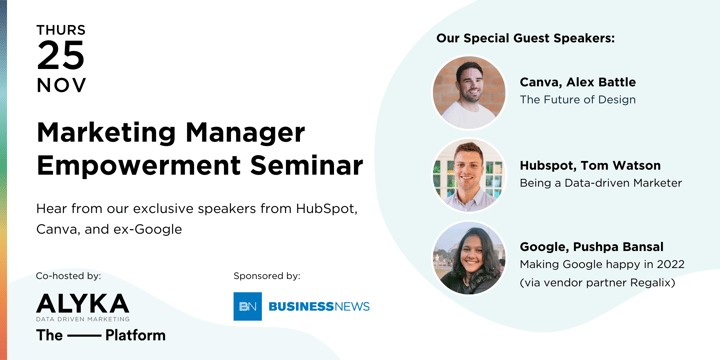 About this event
Being a marketing manager is challenging. You need to stay on top of multiple channels, algorithm changes and continuously prove the ROI of your efforts to team members who don't always understand marketing. You're expected to be an expert in everything loosely-marketing related, from digital marketing, Google updates, graphic design, and even web development! Argh!
We hear your pain, which is why ALYKA and The Platform have partnered to bring client side marketing professionals in both the private and not-for-profit sector together for a morning of networking and upskilling. We want to empower you to be the most well rounded client side marketing manager that you can be.
We have hand-selected our guest speakers from Canva, HubSpot and Google to share their tools and secrets to dominate your role no matter what tasks you've been assigned. We will give you the tools to make your life as a marketing manager more stress-free and give you the confidence that you can tackle any "marketing" task, no matter what your prior skill-set.
Who should attend?
If you are a marketing professional looking to develop your skills and network with other Perth marketers, this workshop is for you.
What will the training workshop cover? This 2-hour interactive event is broken up into two parts:
Part 1 - Canva, Hubspot & Google livestream
Hear from our special guest speakers over livestream; representatives from Canva, HubSpot and a former Google employee.
Canva - The future of design, Alex Battle, Strategic Account Executive
How technology can replace your graphic design agency
Latest trends and features within Canva that you should know.
HubSpot - Being a data-driven marketer, Tom Watson, ANZ Channel Account Manager
How to practically show the ROI of your marketing efforts
The importance of collaborating with your sales team.
Google - How to make Google happy in 2022, Pushpa Bansal, Former Google Account Strategist
Valuable information on Google's future plans
How to make Google happy in 2022 and beyond.
Part 2 - Breakout Sessions
Now is your chance to put your new knowledge into practice and see the tools in action.
You will participate in break-out sessions led by our team leads in varying specialties, who will showcase useful tools and hacks while answering your marketing queries.
By attending this event, you will be equipped with:
Tools and techniques for measuring the ROI of your marketing activities
Tools and techniques for designing marketing collateral
Tools and techniques for digital marketing
A better understanding of how to use tools such as Canva, Lucky Orange, HubSpot CRM and Google Search Console to produce better results and to make your life easier.
Details:
Date: Thursday 25th November
Time: 9am - 11am
Venue: The Platform, 3/256 Adelaide Terrace
Morning tea and hot drinks included - please let us know if you have any dietary requirements.
Numbers are strictly capped to ensure that the break-out sessions are interactive and impactful, so reserve your ticket today!