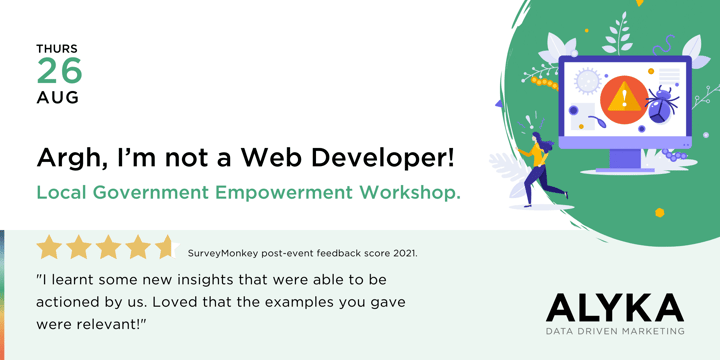 If you have a Local Government website that needs improvement but feel overwhelmed, under-resourced or under-trained, then you are not alone.
We have partnered with over 15 WA Local Governments in the past 12 years and we hear the same problems time and time again. The most common is pressure from colleagues who assume that marketers have the same skill-set as developers. They make you question your own ability to deliver in your role.
But with the right tools and training under your belt, you can be confident in making website improvements yourself.
Impress yourself, your site visitors and your colleagues.
At this interactive workshop, you will walk away:
Knowing what you, as a marketer, can execute within your content management system (CMS) without the need for a developer

Understanding what website improvements you should be focussing on to deliver the biggest return for your time and effort

Knowing how to use awesome tools to make your job easier and deliver results that will impress your team.
Some of the highlights of the workshop include:
Understanding the difference between User Research, User Experience, Information Architecture and why they are so important

Lifting your skillset on the tools - we'll get you working together on a practical activity so that you can upskill yourself from the get go.

Tips on how to present website data to your team so that they will support and trust your recommendations.
Details:
Date: Thursday 26th August

Time: 9am-11am

Location: ALYKA office; 146 Colin Street, West Perth

Morning tea included - please let us know if you have any dietary requirements.
This is an interactive session. So use this exclusive opportunity to also ask all your web and digital marketing questions. Don't hold back!
Hot drinks and morning tea included. Please let us know if you have any dietary requirements.
Numbers are strictly capped to 8 attendees to ensure that the session is interactive and impactful, so reserve your ticket today!