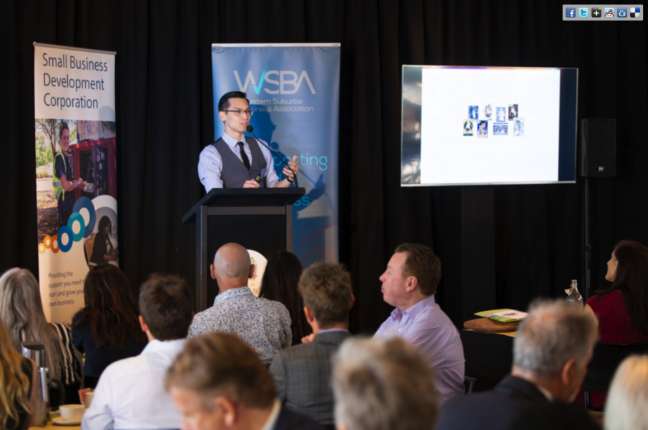 It's been said over and over again during the past couple of weeks, but we really are living through extraordinary, unprecedented, totally crazy times.
People are panicking, the shops have been stripped of toilet paper & sanitiser and businesses are closing. Offices are emptying as people transition to working from home and nobody is sure of what the future holds.
When your mind is swirling with a million worries, thoughts, ideas and emotions, it can be hard to think of a way forward (we understand - we've been there ourselves).
That's when the advice of ex-Navy Seal Jocko Willink becomes really useful:
In times of chaos

PRIORITISE AND EXECUTE
It might seem like overly simple advice, but these two elements really are key to overcoming the panic and starting to take action.
It's obvious that the business community is not in a good place at the moment. Beyond the health crisis, COVID-19 has massively impacted the global and local economy.
We don't want to sugar-coat it - many businesses won't survive. However, the ones that do will be those that are able to assess their priorities, formulate a plan and execute it effectively.
If you're struggling to map out a plan forward, please make sure you check out the following 6-step guide to surviving and thriving in a pandemic.
If you can prioritise and execute well, you'll give yourself the best possible chance of making it through to the other side - which will come eventually.
Priority 1: Keep your team safe
Given that social distancing is such an important part of helping to contain the COVID-19 outbreak, the first step is to transition your employees to working-from-home arrangements (wherever possible).
There isn't any perfect way to do this, and many businesses have never contemplated this sort of action before. However, it's important not to panic and get a proper strategy in place that is going to simultaneously maximise your efficiency and minimise disruption.
When transitioning to work-from-home arrangements, make sure you:
Plan your transition strategy
Sort out your remote working system - from teleconference accounts to communication systems, procedures and HR guidelines.
Communicate clearly, frequently and listen
Speak to your staff as openly as possible about your transition plans, expected WFH transition dates and be honest about the overall COVID situation. Don't sugarcoat things, but also be calm and positive.
Minimise client disruptions
Clients are the bedrock of any business, so it's super important to keep your services running smoothly and to keep clients in the loop with your transition plans.
Priority 2: Manage your cash flow
Cash flow is the lifeblood of any business - you simply can't survive without it. Carefully examine your cash flow situation and re-budget activities if you have to.
It's important not to panic. The situation is changing day by day, and knee-jerk reactions can have dire, unintended consequences further down the line.
Every business is different, but if your cash flow is taking an immediate hit, the simplest way to budget is to look at income producing activities vs non-income producing activities and prioritise accordingly.
Although it may be time to pause some non-income producing activities, we must also do everything we can as a business community to keep trading and stay productive. The domino effect of all businesses stopping all their activities at the same time will just make the situation for everyone worse.
Lastly, look into the government assistance available from instant tax rebates (of up to $100,000 for eligible businesses), government grants, tax relief, the ABA deferring loan repayments and a host of other measures enacted by the WA State Government.
Priority 3: Support your clients
It's tempting to think of your clients as numbers on a balance sheet, but it's now more important than ever to remember that they're real people. They're just as worried about the situation as you are.
Lots of them are probably thinking about cancelling or suspending their services with you. That's why we suggest contacting all of your clients/customers (individually if possible) to ask them how they are going and what you can do to support them.
Be sensitive to what they are going through and don't fall into the temptation of immediately trying to sell them your amazing coronavirus business-saving solution (there's way too much of this happening already).
Simply listen, empathise and genuinely ask how you can help. Offer them some free advice or propose a solution that they might not have considered.
Whatever you do, make sure it's all about them.
Priority 4: Priorities new opportunities
It might sound a little crazy, but once the initial panic has subsided, there is actually quite a lot to get excited about when it comes to the business opportunities that will result from the shift to the isolation economy.
However, it's also easy to become paralysed by the large number of possibilities. Despite what you might think, having too many ideas on the table at the same time is not actually helpful.
What is more useful is prioritising 1 or 2 very strong ideas, creating a plan around them and then executing this with extreme focus.
So with this in mind, we suggest the following steps:
Call your clients and find out what problems they are going through (as we mentioned above).
Write down these problems in a spreadsheet
Get your team together and brainstorm possible solutions to each of the listed problems.
Vote on the top one or two ideas would bring you the highest ROI.
Formulate an action plan around these ideas.
Present it to your client.
As we mentioned before, lots of businesses are struggling to come up with what to do next. If you're able to present them with a clearly defined plan of action, they'll love you for it!
If yours isn't the kind of business that services clients face to face (or zoom to zoom!), you can still adopt this process in other ways (E.g. surveys, online research etc).
Priority 5: Package & promote your new opportunity
Once you have agreed on your key new business priority, the next step is to package this up into a marketable offering.
We recommend working on the offering even before finalising the business model, because without clients, your business model is irrelevant. Of course you need to make sure that you can deliver on your promises, but you don't have to perfect every detail of your operation just yet.
We understand that some businesses need to finalise their delivery model before they can heavily promote (such as in the case of food or other product delivery services), but in a lot of other cases, it's much more important to get some momentum and get some cash coming in as soon as possible.
In most cases, you can get clients first and then master your business delivery model.
Steps to implement this include:
Identify the exact problem you are solving.
Identify your exact solution to this problem.
Identify your exact target audience.
Craft the problem and solution into a one-page written offer that your audience will resonate with. This one-page offer is for you to understand your own offering inside out and will be used as a reference point for your actual promotions (more on this below).
Identify the most appropriate channels to promote your offer. Remember to focus on the right channels for your target audience and not to dilute yourselves over too many channels. Examples of different channels include:

Phone call / Zoom to existing clients or new prospects
Website
Organic Google Search (SEO)
Email outreach
Social Media Pay Per Click
Social Media Organic
Instagram or LinkedIn Direct Messages (DM's)
Google Adwords / Google Shopping

Tailor your offer to suit each individual promotion channel. Your offer will read differently across every channel. E.g. A phone call script will sound very different to your Google Ad copy although they carry the same message.
Priority 6: Adjust your business model around your new opportunity
The final step is to finalise your business delivery model.
With everyone shifting to an isolation economy, transitioning your delivery into a digital environment is key. Think about your technology requirements, your clients' technology requirements, payment arrangements, your shipping model etc.
For example, those wanting to shift into the e-commerce space need to think hard about shipping and delivery. Certain delivery services are shutting down and as a result, you need to think about alternative methods of getting products to your customers.
Restaurants who want to transition to home delivery without relying on Ubereats or Deliveroo need to set up their own website, ordering page, online payment and physical delivery system.
Execution is the key
The key to surviving and thriving in the face of the challenges brought on by the coronavirus crisis can be summed up in the following three steps:
Identifying key priorities for your business (such as the 6 that we've identified here).
Formulating a plan that addresses them.
Making sure you execute this plan effectively.
The world seems to be in a state of freefall right now, but you don't have to be. We are in this together, and when chaos reigns, just pause, take a deep breath and do what Jocko said - PRIORITISE & EXECUTE.